Tomorrow is Chinese Dragon Boat Festival. The whole Aoerdeng Furniture CO.,LTD associates to convey to you greetings and sincerely good wishes. Wish you have a Happy Dragon Boat Festival.
Chinese people like eating, and Chinese culture is justifiably called a food culture. They have different foods with special meanings for each festival.
For Dragon Boat Festival the Chinese usually eat zongzi and various other foods below, depending on the region.
  Zongzi
  1、粽子。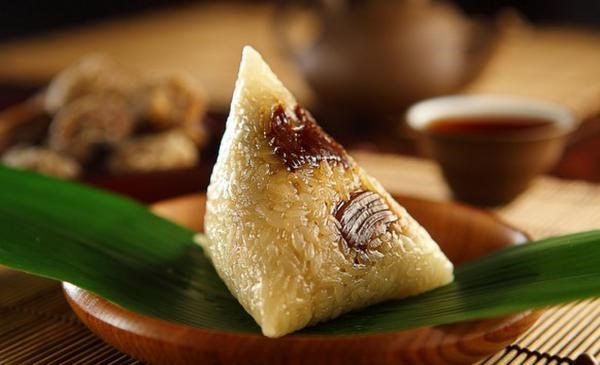 It is a traditional custom for Chinese to eat zongzi, a kind of sticky rice dumplings wrapped in bamboo leaves.
  吃粽子是中国人的传统习俗,这是一种用竹叶包起来的糯米团子。
  Zongzi are usually made of glutinous rice with meat or some other filling, and wrapped in bamboo leaves in the shape of a triangular pyramid. They are many different flavors and shapes of zongzi available.
  粽子的主料通常的糯米和肉等其他馅料,然后用竹叶包成三角形金字塔形状,各种口味造型的粽子都有。
  Mianshanzi
  2、面扇子。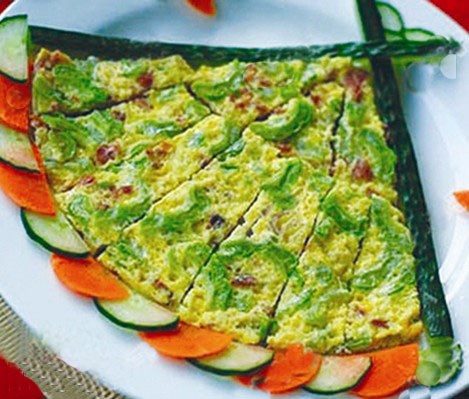 Mianshanzi are a kind of wheat flour food made in a fan shape.
  面扇子是一种用面粉制成的扇子形状食物。
  The custom of eating mianshanzi on the Dragon Boat Festival mainly prevails in Minqin County in Northwest China's Gansu Province.
  端午节吃面扇子的习俗主要盛行于甘肃省民勤县。
  This fan-shaped food is made up of five multi-colored layers, with each layer covered with fried sprinkles of pepper powder. The layers are pinched into a variety of patterns to make it appealing to eyes. This dietary custom is said to be trace back to the tradition of making and selling fans during Duanwu Festival in ancient times.
  面扇子共有5层不同颜色的面,每一层都撒有少量的油炸辣椒面,还被捏成各种图案来吸引人的眼球。这种饮食习惯据说可以追溯到古代端午节期间制作、贩卖扇子的习俗,
  Fried Cake (Jiandui)
  3、煎堆。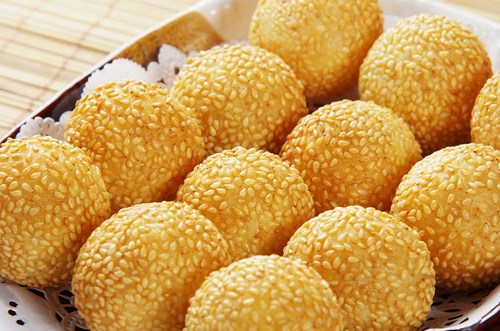 Jiandui is a kind of fried round cake made of wheat and rice flour and something to sweeten them.
  煎堆是一种油炸食品,由面粉、糯米粉和糖制成。
  In East China's Fujian Province every family eats jiandui on Dragon Boat Festival day.
  在福建,端午节那天每家每户都要吃煎堆。
  A legend explains this custom. It is said that the area enters its rainy season during Dragon Boat Festival. People believed there were holes in the sky which, if not filled, would allow the rain to continue indefinitely. Eating jiandui is said to help mend the sky and fill the holes.
  在这个习俗背后还有一个传说。因为端午节期间这些地区刚好进入了梅雨季节,以前的人们认为天上有一个大洞,如果不把洞补上的话,雨就会一直不停地下,而吃煎堆据说可以帮助补天。
  Eel
  4、黄鳝。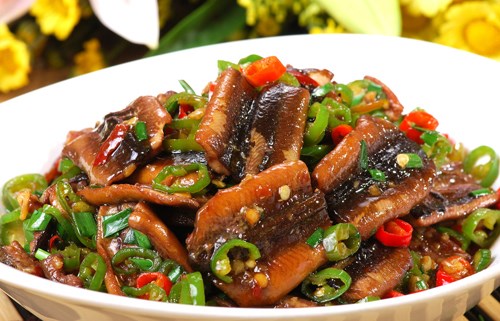 The custom of eating eel on Dragon Boat Festival day prevails in central China's Wuhan region. Eels are probably eaten simply because they are in season during the festival. They are fatty and tender, and rich in nutrition.
  端午节吃黄鳝的习俗主要盛行于中部武汉地区。而这个习俗的原因可能只是因为端午节黄鳝正好应季,这个时候的黄鳝又肥又大、营养丰富。
  Thin Pancakes
  5、春卷。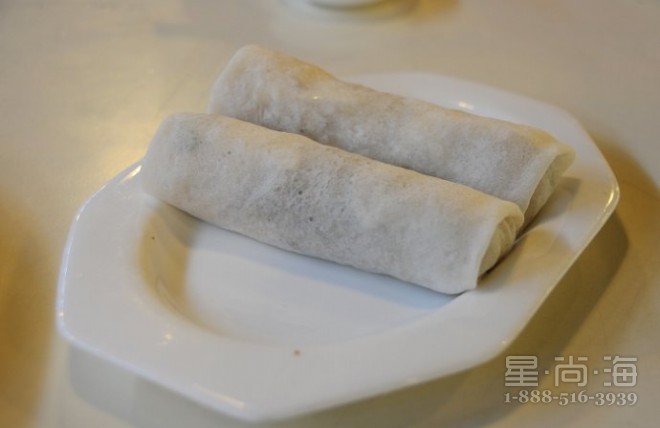 In East China's Wenzhou area, every family eats a kind of thin pancake at Dragon Boat Festival.
  在温州,端午节期间每家每户都会吃春卷。
  The pancake is made of refined white wheat flour fried in a flat frying pan.
  春卷的外皮是在平底锅中用精面粉煎成的博饼。
  When the cake becomes very thin and translucent, as thin as a piece of silk as the locals describe it, it is done.
  当煎饼变薄到半透明的时候就行了,当地人形容这种面皮像丝绸一样薄。
  Green bean sprouts, leek, shredded meat, and mushrooms are then placed on the pancake, which is then rolled up and eaten as a wrap.
  绿豆芽、韭菜、肉食、蘑菇等食材都放在面皮里,然后卷着吃。
  Eggs Steamed with Tea
  6、茶叶蛋。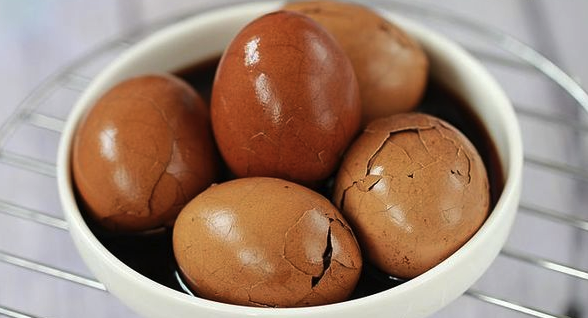 It is a custom for people in Central China's Nanchang region to eat eggs boiled with tea at Dragon Boat Festival.
  端午节吃茶叶蛋是南昌人的习俗。
  The shells of the boiled eggs are then dyed red, put into colorful net bags, and hung round children's necks, which is believed to bring them good luck.
  煮熟的鸡蛋蛋壳被染成红色,用五颜六色的丝袋子装着挂在孩子们的脖子上,人们认为这样做可以带来好运。
  Egg with Garlic
  7、鸡蛋大蒜。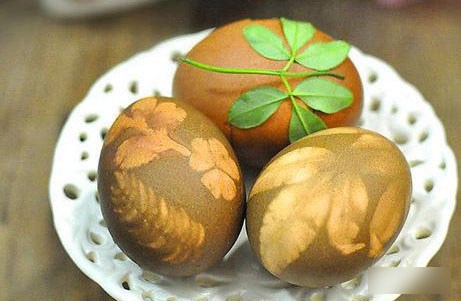 In the rural areas in Central China's Henan Province and East China's Zhejiang Province, people eat egg with garlic on Dragon Boat Festival.
  在河南和浙江的农村地区,人们会在端午节吃鸡蛋和大蒜。
  Eggs are steamed with garlic and then shared with families as breakfast. Eating eggs with garlic is believed to promote health.
  鸡蛋会和大蒜一起煮熟,然后给家人当做早餐。鸡蛋就着大蒜一起吃据说能让人身体健康。
  Dagao — Glutinous Rice Cake
  8、打糕。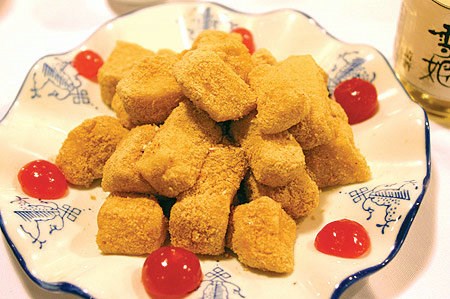 Glutinous rice cakes (打糕 dǎgāo) are eaten by the North Korean ethnic minority people, who live in Yanbian Prefecture in Northeast China's Jilin Province. Served with honey or sugar, it tastes delicious and chewy.