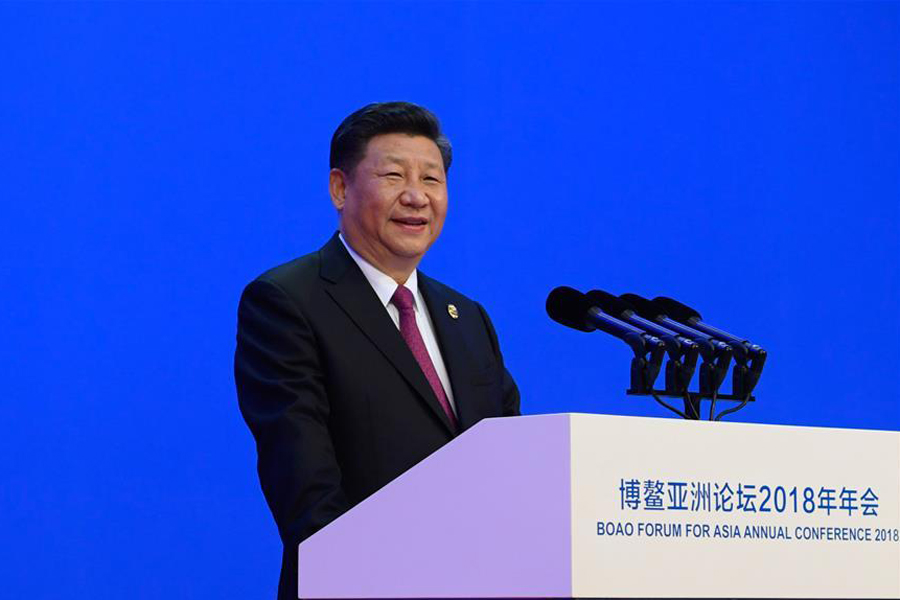 President Xi Jinping delivers the keynote speech at the opening ceremony of the annual conference of the Boao Forum for Asia 2018 in Boao, Hainan province, on Tuesday. The president announced he would cut tariffs and open the country further to foreign investment.
Xi reveals foreign goods, services to have more access by end of this year

President Xi Jinping introduced on Tuesday powerful measures, including lowering tariffs on automobiles this year, to open the world's second-largest economy "wider and wider".

"We will take the initiative to expand imports," Xi said in the keynote speech at the opening ceremony of the annual conference of the Boao Forum for Asia in the southern island province of Hainan.

The theme of this year's conference is "An Open and Innovative Asia for a World of Greater Prosperity".

China does not seek a trade surplus, Xi said, adding that the country would like to increase imports and achieve greater balance of international payments under the current account.

"This year, we will significantly lower the import tariffs for automobiles and reduce import tariffs for some other products. We will import more products that are competitive and needed by our people," he said.

The first China International Import Expo planned in Shanghai in November will be not just another expo in an ordinary sense, but "a major policy initiative and commitment taken of our own accord to open up the Chinese market", he said.

China will significantly broaden market access and create a more attractive investment environment, Xi said.

"An investment environment is like air, and only fresh air attracts more investment from the outside," he said.

China will continue to strengthen protection of intellectual property rights, Xi said, adding that it will provide the biggest boost to the Chinese economy's competitiveness.

In his speech, Xi reaffirmed China's commitment to deepening reforms and opening-up.

"China's reform and opening-up meets its people's aspiration for development, innovation and a better life. It also meets the global trend toward development, cooperation and peace," he said.

Over the past 40 years, China's GDP has averaged an annual growth rate of about 9.5 percent, Xi noted.

To promote common prosperity, countries have no choice but to pursue greater connectivity and integrated development, Xi said.

"Human history shows that openness leads to progress, while seclusion leaves one behind," he said.

Austrian President Alexander Van der Bellen said while addressing the opening ceremony that economic openness, which involves as many countries and sectors as possible, will be beneficial not only for a small and open economy like Austria, but for each and every economy.

"The so-called trade wars are the last thing we need," he said.

Mark Rutte, prime minister of the Netherlands, called in his speech at the opening ceremony for joint efforts to oppose trade protectionism.

"History shows that trade barriers divide not only markets but also the people and their ideas," he said.

Singaporean Prime Minister Lee Hsien Loong said in his address at the opening ceremony that the multilateral World Trade Organization system must be the basis for global trade.

"Since China joined the WTO in 2001, its weight in the global economy and its share of world trade has grown enormously and this has greatly benefited China itself and many other countries of the world, including Singapore," he said.
Keywords: Beldon Memory Foam Mattress Beldon Latex Mattress Beldon Bed Box