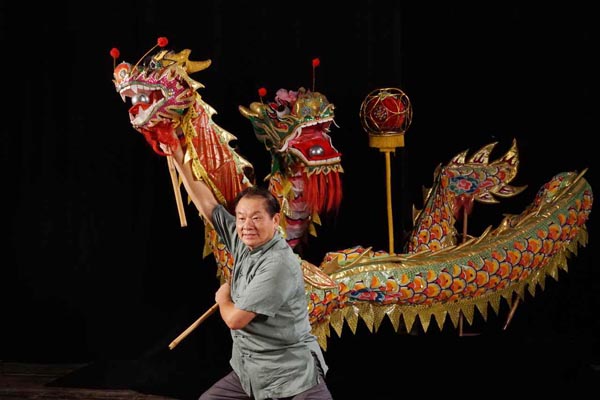 Lu Dajie, 72, is a master of raolongdeng-or Pudong Dragon Dance, an intangible cultural heritage. [Photo provided to China Daily]
Having long been concerned about the future of raolongdeng-or Pudong Dragon Dance, an intangible cultural heritage-72-year-old master Lu Dajie has finally obtained a sense of relief now that an organization has been designated to protect it.
On Nov 29, Shanghai Pudong New Area Sanlin Town Cultural Service Center was assigned as the protection and promotion organization of raolongdeng by the Ministry of Culture and Tourism.
Together with raolongdeng, a total of 55 intangible cultural heritages-including Shanghai proverbs, Shanghai opera, Shanghai festive lanterns and Shanghai paper-cutting-will be protected by 63 local departments and organizations, according to a list compiled by the ministry.
"The list defines the responsibility of project protection and improves management mechanisms including support, supervision and exit," said Zhang Liming, office director of Shanghai Intangible Cultural Heritage Center. "It somewhat helps solve the deep-rooted problems for intangible cultural heritage protection."
Lu, who is also the founder of Sanlin Dragon Dance Team, said he feels more confident about the cultural heritage with the organization as its protector.
The dragon dance first appeared 2,000 years ago as a ceremony for sacrifice when people prayed for rain and good fortune.
But over the years it has been used for various purposes, including celebrating festivals, foundation construction ceremonies and the grand opening of new stores. Since 1995, it has also been included in sports competitions, according to Lu.
"In recent years, the dragon dance has entered into the army, communities and campuses, which means the intangible cultural heritage is still alive," he said."Some schools began to enroll the students who were good at it, and about 300 to 400 universities have set related courses."
Moreover, Shanghai has more than 10 dragon dance competitions at different levels.
Exhibitions, exchange performances and folk culture festivals have been organized regularly, according to Lu.
"With so many people caring about it, I believe it will survive and continue to be developed," said Lu.
Xi Xiaoqin, a Shanghai paper-cutting master, expressed the same thought.
"The original characteristics of paper-cutting should be preserved," Xi said. "This is part of the history and foundation of Shanghai, and as long as it is conducive to the inheritance and the development of the intangible cultural heritage, I will strive to preserve it."
Born in 1956, Xi has already retired. But as the master of a traditional culture, the Shanghai Arts and Crafts Museum rehired her to promote the art.
Founded in 1956 as the Shanghai Arts and Crafts Research Office, the museum used to sell items to foreign guests.
With the transformation of national arts and crafts research institutes from public institutions to enterprises, there has been a severe talent drain, according to Xi.
"A group of senior artists retired, the young artists chose to go abroad or change careers. The popular traditional culture such as boxwood, bamboo, ivory and porcelain carving disappeared from the institute one by one," Xi said.
After 2000, the nation recognized the problem and the Shanghai Arts and Crafts Museum officially opened in 2002 to help restore the traditional crafts.
Now, teaching paper-cutting is Xi's most important task and she gives paper-cutting lectures in many colleges, including Shanghai Institute of Visual Arts and Shanghai Art & Design Academy.
"The overall situation has been improved," Xi said.


Keywords: Beldon Memory foam Mattress Beldon Bamboo Fabric Mattress Beldon Bed Frame