The Lantern Festival, a traditional Chinese festival, is celebrated on the 15th day of the first lunar month. It falls on Tuesday this year.

It is a continuation of celebrating the Spring Festival. The day leads to the first full moon night of the year, and is also the night when the earth returns to spring.

During the Han Dynasty (206 BC-AD 24), more than 2,000 years ago, Emperor Wen ordered that the 15th day of the first lunar month to be dedicated to the Lantern Festival.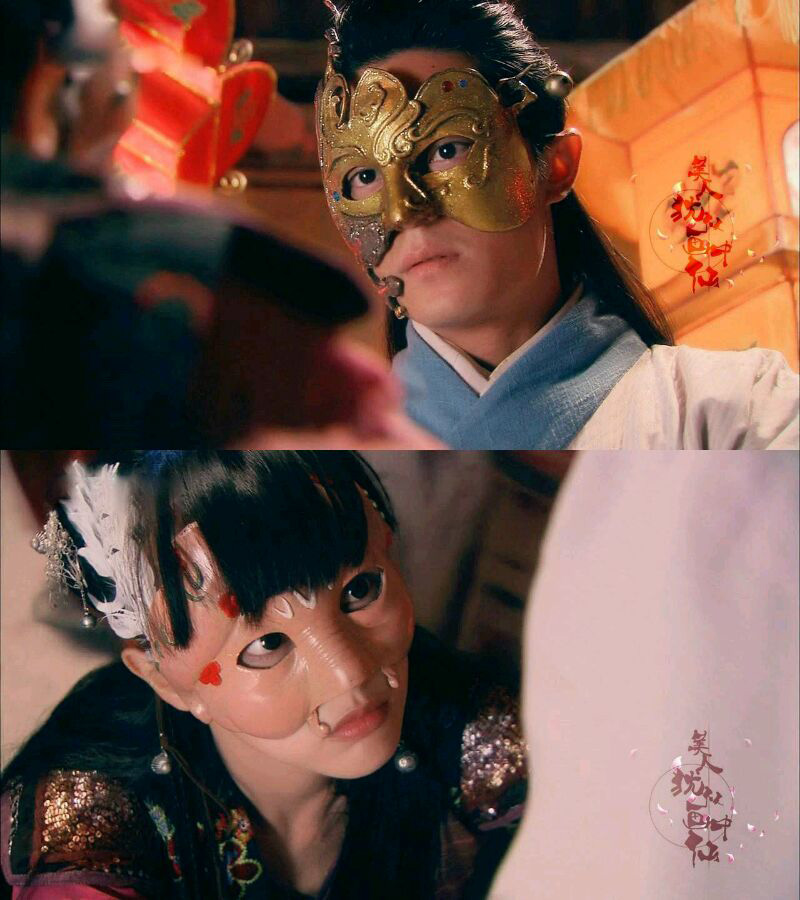 Stills from Chinese costume drama, Legend of Sword and Fairy. Zi Xuan meets her lover Xu Changqing at the Lantern Festival.

It was also a romantic festival in ancient China, providing an opportunity for unmarried men and women to meet.

In ancient times, young women, especially daughters of eminent families, hardly stepped out their houses. But during the Lantern Festival, it was a tradition that all people, including those young women, come out for lantern shows.

Watching lanterns at night was just an opportunity for young women to find a man whose appearance appealed to them. Another activity, guessing the answers to lantern riddles, gives young people a chance to interact with each other and know more about each other. For thousands of years, there have been numerous love stories originating during the Lantern Festival.

A poem by Xin Qiji, a poet of the Song Dynasty (AD 420-479) depicts a love story at the lantern festival:

But in the crowd once and again

I look for her in vain.

When all at once I turn my head,

I find her there where lantern light is dimly shed.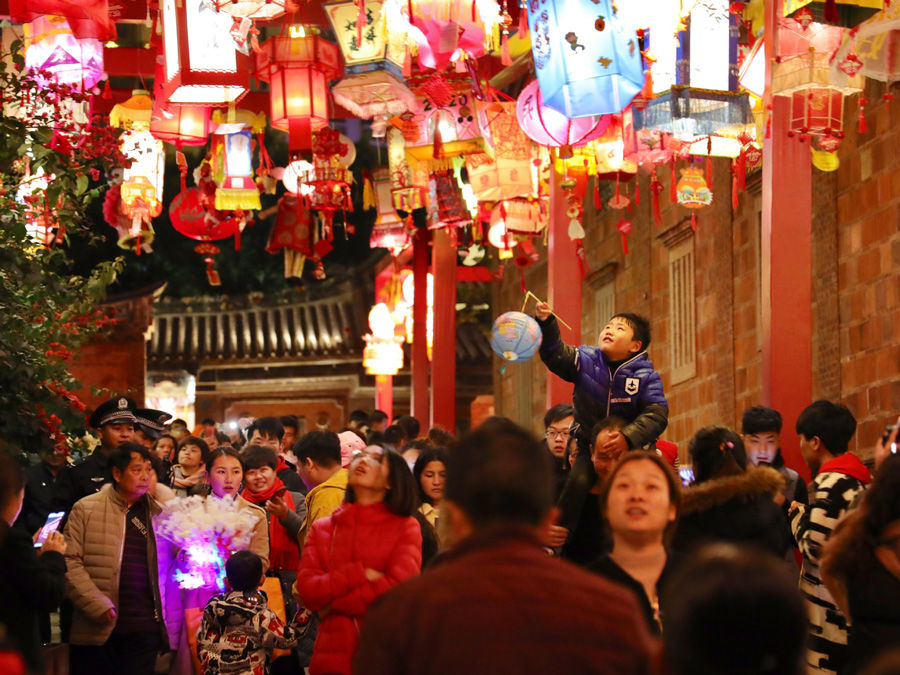 Visitors view the lanterns in Wudianshi Traditional Blocks, Jinjiang city, East China's Fujian province on Feb 17, 2019.

Besides watching lanterns and guessing the answers to lantern riddles, there are many traditions for the festival. Here is a guide for you to spend a happy Lantern Festival.

1. Viewing lanterns

It is tradition that people hang lanterns everywhere, in their house or in the streets. The lanterns depict various characters, like flying birds, leaping fishes, and shining fireworks, showing an atmosphere of joy. People will come out and appreciate the beautiful scene.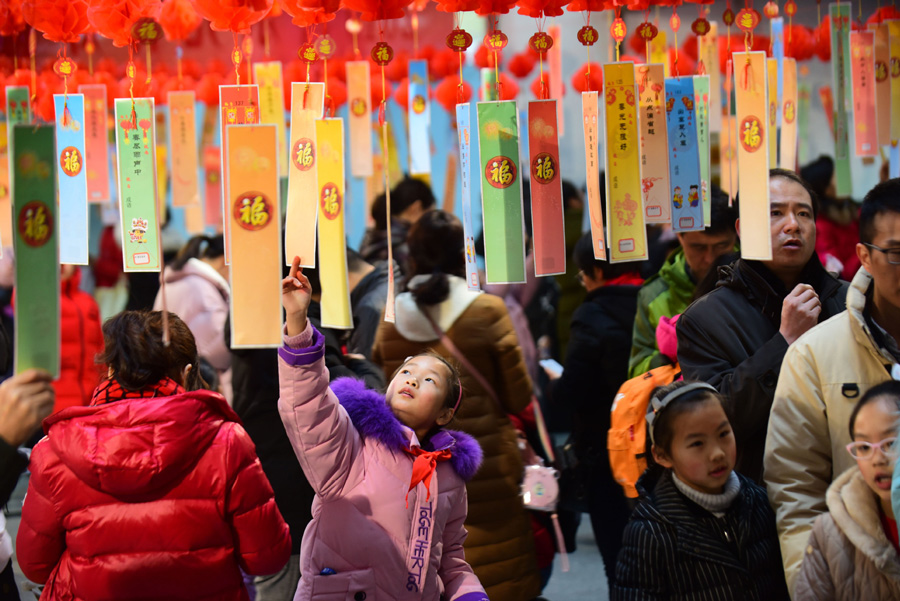 A child reaches for a lantern riddle in Wuxi city, East China's Jiangsu province on Feb 17, 2019.


2. Guessing lantern riddles

Riddles written on the lanterns can inspire wisdom and cater to the festival atmosphere, so many people like it very much. Guessing the answers to lantern riddles gradually became an indispensable part of the Lantern Festival.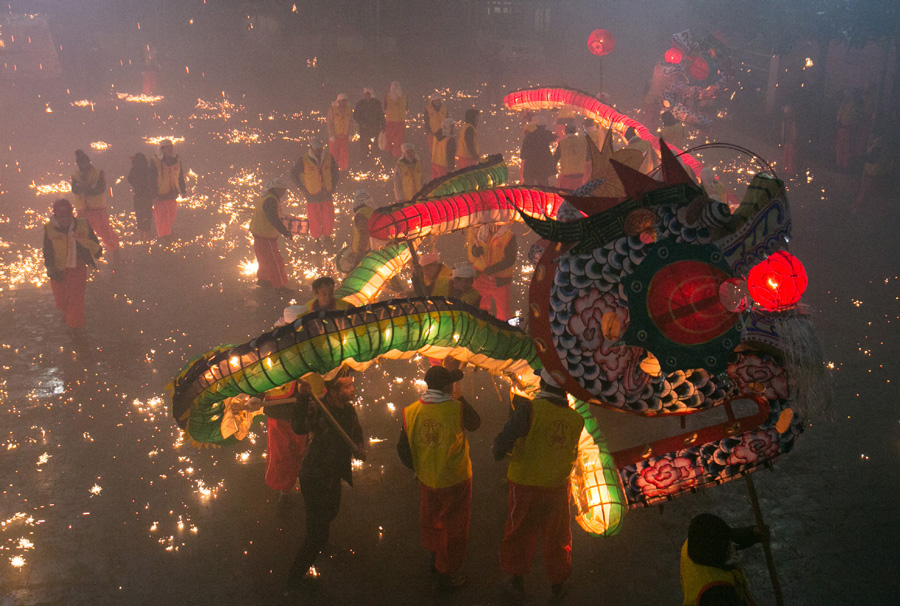 Participants perform a dragon lantern dance in Bijie city, Southwest China's Guizhou province on Feb 17, 2019.


3. Dragon lantern dance

Chinese people regard the dragon as a symbol of auspiciousness. At the festival, people perform dragon lantern dances and look forward to a good omen of this year's good weather and peace.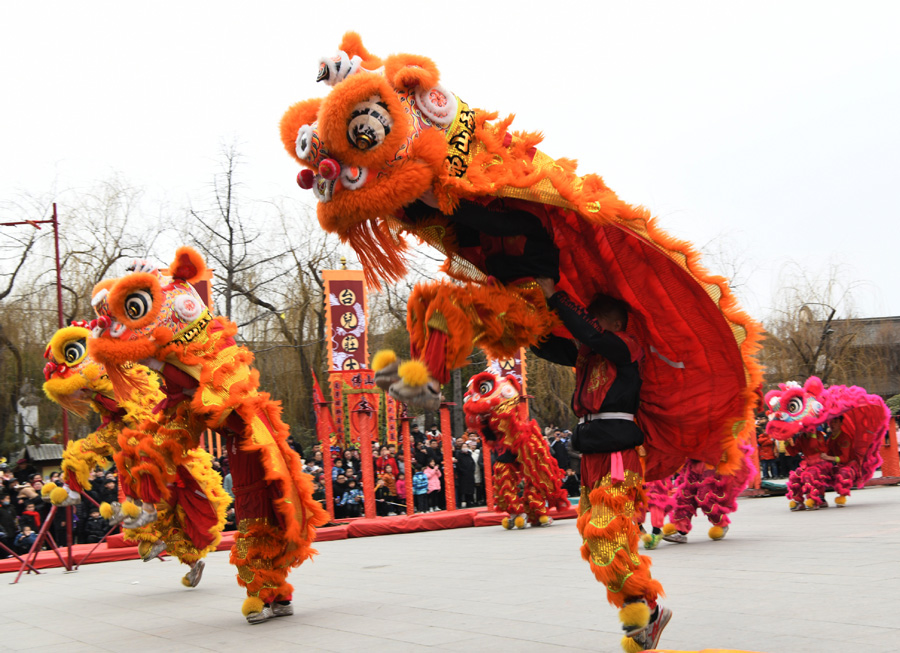 A lion dance is performed in Zaozhuang city, East China's Shandong province on Feb 17, 2019.


4. Lion dance

It is similar to the dragon lantern dance, delivering good wishes and good luck.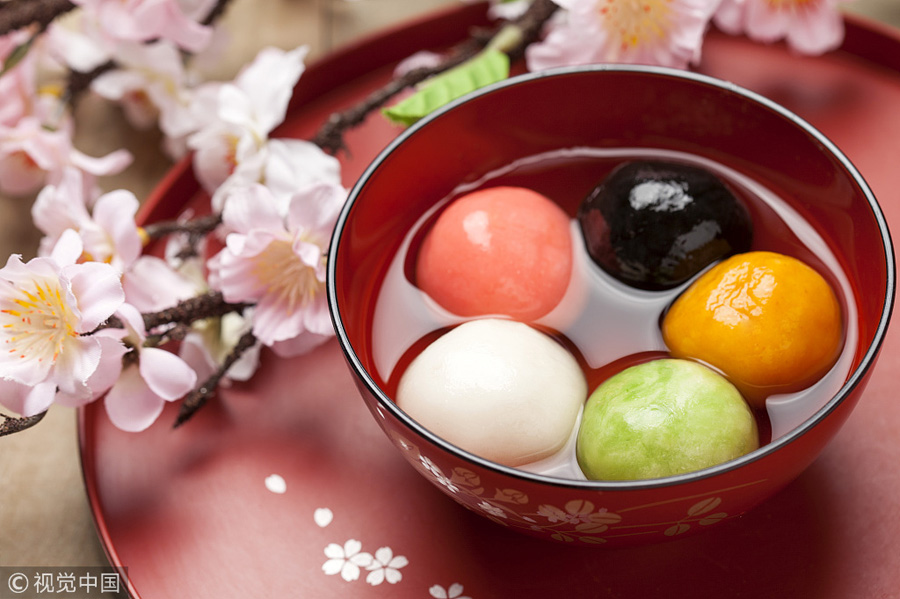 Colorful yuanxiao for the festival.


5. Eating yuanxiao

Eating yuanxiao Lantern Festival is another tradition. Yuanxiao is made of glutinous rice, either solid or stuffed. The stuffing includes bean paste, sugar, hawthorn, various kinds of fruit and so on. It can be boiled, fried or steamed and fried to eat.
Keywords: Beldon Export Mattress Beldon Aloe Vera Mattress Beldon Compress Mattress